Celebrating 10 Years of Mini Galerie with Julia van der Meer
Ten years ago at the age of 21 I started Mini Galerie from my own living room, not knowing that I would still be running the gallery after so many years. It started out as a one time thing, one exhibition organized for friends and family. It feels as a huge milestone to reach this ten year mark.
I established the gallery because I wanted young art enthusiasts such as myself to feel welcome in a gallery and to make art accessible for a new generation. To celebrate this ten year mark, I 'return' to my home – a different one from where I founded the gallery – and give you a little peek into my current home in Amsterdam where I live with my partner and our two children (and cat). I would like to tell a few stories about some of the artworks in my home, because this is what art collecting should be; acquiring stories and keep certain memories close to your heart.
A big thank you to all artists and collectors who've supported the gallery over the past ten years!
Drawing by Louis Reith
This artwork was part of the gallery's first exhibition organized in my own home, where the whole idea of the gallery started. For this exhibition I invited Rutger de Vries and Graphic Surgery to exhibit in my room. I asked both of them separately who they thought would be a good fit for this exhibition. They both sent me a list of artists they admired and Louis Reith was the only artist on both lists. So this is how the collaboration with Louis Reith started. He showcased 12 ink drawings on old book pages and we sold almost all of them, something that as a 21 year old student I didn't think was possible.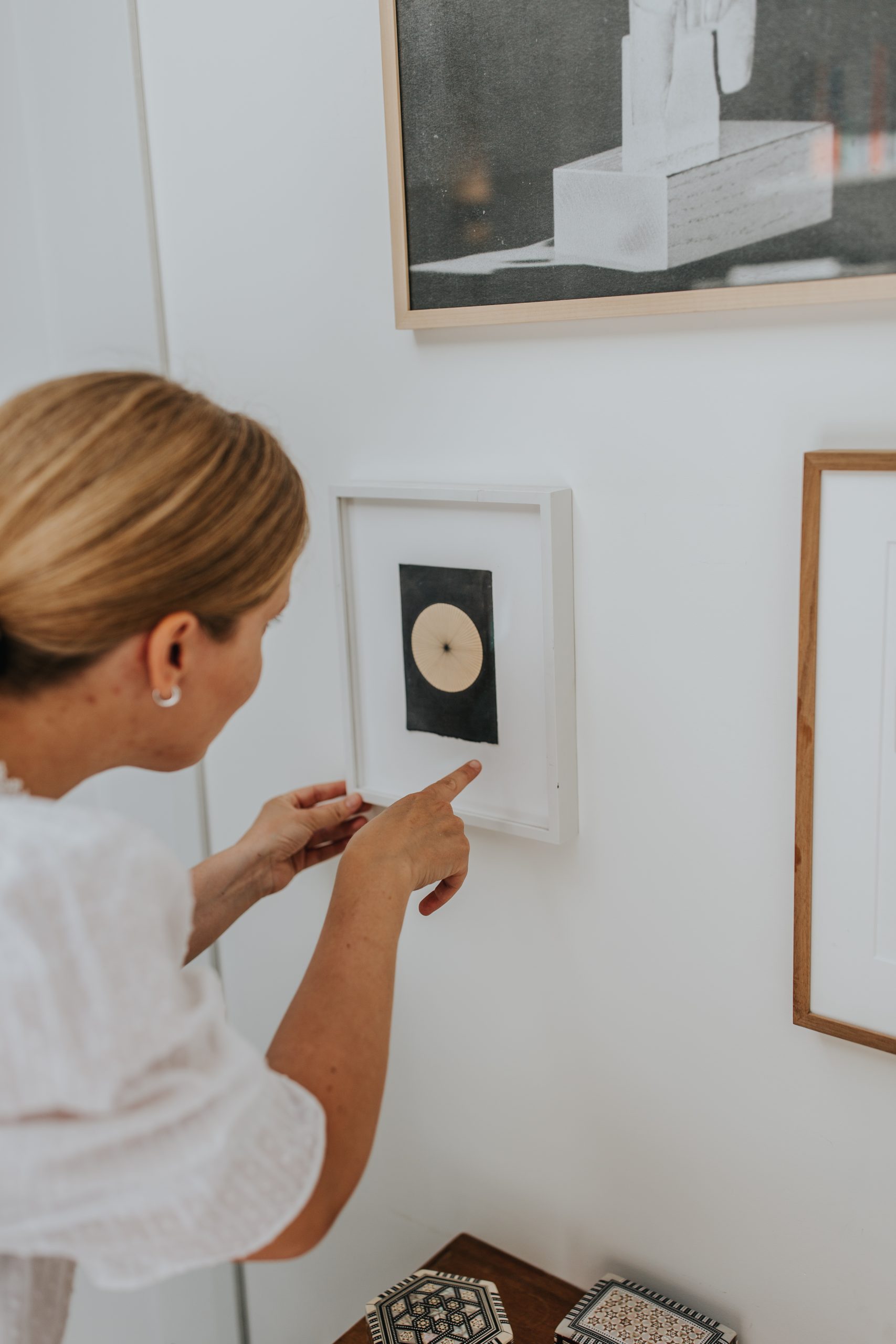 Sculpture by Eric Magassa
At the end of 2015 I visited Ekta and Eric Magassa in Gothenburg, Sweden, in preparation for their duo exhibition at the gallery titled 50 x 70. My father – a big fan of the gallery – joined me on this weekend, which was quite special since he was diagnosed with advanced prostate cancer a few months earlier. When we visited the studio of Eric Magassa, he was directly intrigued by this sculpture – a man sitting in a chair overviewing what's going on – was how he described the sculpture. He purchased the artwork from Eric Magassa right at the spot, something that was very unusual for him, since he wasn't a big art collector at all. My father passed away two months later at the age of 55. Since then, the artwork has found a place in my home, and when I look at the sculpture it feels as if my father is watching over me.
Photo by Jordi Huisman
This photo is taken by Jordi Huisman in the courtyard of the home where I started the gallery. This is also the home where I met my partner Gysbert Zijlstra, who lived opposite of my home. We both looked out over these trees, and the aluminium little path that you see on the image is where we escaped towards each others home. After I exhibited Jordi Huisman's Rear Window series in the gallery in 2011, he asked to photograph my rear window from my patio. Eventually this shot didn't make the series, but it remained special for me and Gysbert, reminding us of where our relationship started.
Other artworks in our home are from Boris Tellegen, Merijn Hos, Thomas Trum, Raymond Lemstra, CT, Jeroen Erosie, Maya Hayuk, Martina Merlini, Eric Magassa, Rotganzen, Zedz, Koen Taselaar, Malin Gabriella Nordin, Pablo Tomek, Heiko Zahlmann
Photography by Pierre Zylstra